MOGO Global Data Roaming SIM Card | Europe, Asia, US, Canada | FREE 3GB Data | As low as $1/day | Travel accessories and essential | must-have
Regular price
$41.56
Sale price
$13.72
---
MOGO Global SIM Card
Get now with a
3GB Global Data Plan for FREE
Now for $9.90
LIMITED TIME ONLY
Purchase an Intro card now to get a 10-day 3GB Global Data Plan. 90 days card validity. Limited amount. Don't miss out.

FREE gift: Every order will be sent along with a Luggage Tag.
Offer validity: 2023.01.01-2023.12.31
What is MOGO Data SIM Card?
MOGO Card is a data roaming only SIM card that can provide global coverage for over 110+ countries and regions.
With the 90 days validity, it's perfect for vacations and holidays. Just insert the card when you arrive at your destination, turn on data roaming and you are good to go. If you run out of data, you can purchase more data plans via MOGO App.

Surf freely with MOGO now!
DATA PACK DETAILS
*Includes: 10-day 3GB global data plan.
Data Plan Coverage:
Asia:
Bangladesh, Cambodia, Hong Kong, China, India, Indonesia, Israel, Japan, Jordan, Laos, Macau, China, China, Malaysia, Mongolia, Philippines, Singapore, South Korea, Sri Lanka, Taiwan, China, Thailand, Turkey, United Arab Emirates, Vietnam

Europe:
Austria, Belgium, Bulgaria, Croatia, Cyprus, Czech Republic, Denmark, Estonia, Finland, France, Germany, Gibraltar, Greece, Hungary, Iceland, Ireland, Italy, Latvia, Lithuania, Luxembourg, Malta, Netherlands, Norway, Poland, Portugal, Principality of Liechtenstein, Romania, Russia, Slovakia, Slovenia, Spain, Sweden, Switzerland, U.K.

North America:
Canada, Mexico, U.S.

Oceania:
Australia, New Zealand

South America:
Chile, Colombia, French Guiana (France), French West Indies

Africa:
Reunion Island


CARD DETAILS
3-in-1 SIM - Mini, Micro and Nano Sizes
Card data network coverage available in 110+ countries: 4G service network
90 days card validity from activation
24/7 Live Customer Support
100% Refund Guarantee for service failures
No need for hassle registration procedures
Manage your card easily and conveniently in our MOGO App
Data-only SIM card. This SIM card only supports data services. Network phone is available in our MOGO App if calling is required.
International shipping from only $4.99. Ships to anywhere in the world. Normally, order is fulfilled within 3-5 working days.
How to use MOGO Card?





What's More?
Enjoying our services and want more of MOGO? You can join our Elite Membership, tailor-made for frequent international travellers. Upgrade to enjoy more exclusive benefits and discounts on data plans!
Elite Membership - 365 days membership
1. A total value of 22USD balance for purchasing data plans
2. 10% member exclusive discount on data plans
2. Elite Daily Plan Service: you can enjoy up to 26 days of data and and a maximum of 13GB. Surf now for as low as 0.80USD per day!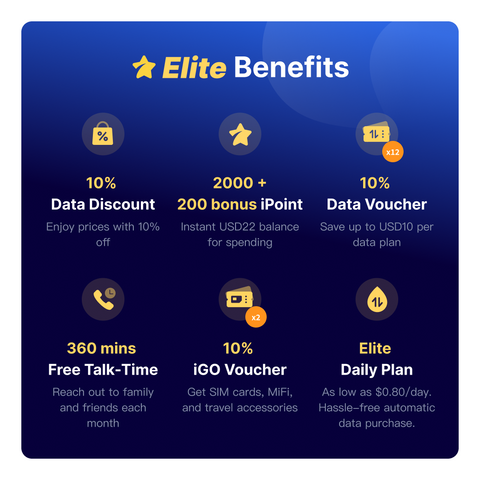 Customer care

We offer 24-hour customer support.

Shipping
Shipping not included. Ships to anywhere in the world. Normally order fulfilment within 3-5 working days.
NOTE: Custom Duties and Taxes are not included in the products and shipping prices. For this reason, you'll look to the state level and see how much taxes you'll pay when received the products.